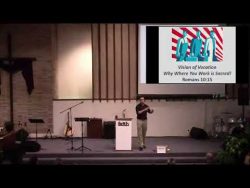 Vision of Vocation – Romans 10:14-17
September 5, 2021
READ: Romans 10:14-17
Get Going: What are you going to do with what you know about Jesus with where you work?
Recap: As we have been going through Romans Paul has been taking us on a journey.  A journey of history, from God making the world, to the rejection of God by man, to where the church in Rome finds itself. Discouraged and divided between Jew and gentile believers.  Paul's desire is to see all believers everywhere come to obedience in faith in Jesus being their King through the preaching of the gospel. This faith is not something we have earnt but that God has graciously given to us by His Son Jesus, dying in our place to save us from God's wrath so that we might live in His Righteousness. This journey keeps on going. (Like in the last battle it's little further in till we get to the new world).  Remember from last time in Romans Paul describes the journey like this;
2 Through him we have also obtained access by faith[b] into this grace in which we stand, and we[c] rejoice[d] in hope of the glory of God. 3 Not only that, but we rejoice in our sufferings, knowing that suffering produces endurance, 4 and endurance produces character, and character produces hope, 5 and hope does not put us to shame, because God's love has been poured into our hearts through the Holy Spirit who has been given to us.
This journey is producing character and hope.  But these take time. Most often they are not instant but part of a longer journey.  In as much as this is true with our walk with the Lord, we must recognize that the journey itself is part of God's means for producing this character, and most of us will spend most of our adult lives involved with an occupation. So in order to understand the sacred nature of work we must include it in our story as we journey through life with God, going a but further on and further in the adventure of life's discoveries.
Context:  In Romans 10 Paul is showing the members of the church in Rome how the Jews were deliberately rejecting Jesus as the messiah.  Not just that they did not know about it, because they did through the words of Moses, but also through trying to live out the law in their own strengths day by day to please God. It is so painful to Paul that they have the Word of God so close to them all the time, yet they are missing the beauty of Jesus and His gift of righteousness. He longs for them to confess with their mouths JEsus is Lord, and believe in their hearts that God raised Him from the dead, so that they would be saved by trusting in what God has done and not by their own lives.
BIG IDEA: The Gospel brings change through workers like you speaking the gospel
How God wants to change our lives through His Word: That through ordinary people the powerful gospel will change us and those our feet take us to.
"The one true God's one true way for all the world to be right with Him"
Mike Cain
STRUCTURE
Until someone "hears the gospel" they are lost v.14a
Someone hears the gospel though someone like you speaking the gospel v.14b
This is for everyone everywhere to hear from you being sent,  (where you work) v.15 Cf (1:5 &16:26)

That's why you have beautiful feet, because you have the gospel and you have been sent with it to where you work. (Cf.Isaiah 52:1-7)
Get Clear:
Is there anything from the passage or the sermon that wasn't clear?

Is there anything from this passage that you didn't understand?
Get Stuck Into Understanding the Bible:
Acts 17:24-26 Do you see how God has placed us where we live and work?

Acts 18:1-4 is a real life example of God doing this.

Do we confess Jesus as Lord v.9?

Do we believe Jesus was raised from the dead v.10?

Then what is our command v.14&15?

Where is God sending you every day v.15?

Where are your feet taking you with the gospel?

What makes the gospel beautiful v.15?
1. Steven Gerber "Vision and Vocation".
Vocation = The exercise of faith in the ordinary
Occupation = How we choose to spend most of our time
There is a tension here between what we feel God calling us to be and what we do with most of our time.  Faith and beautiful feet are where we are with our likes, desires, gifting and individual personalities, i.e. how God made us as individuals, and what we are doing in the present part of our journey. Redeeming our occupation with seeing what we do as sacred, even to our most ordinary tasks.
Get on:
Do you see your work as sacred?

Are you consecrating your work to God in prayer?

How do your own beliefs about evangelism, and your practise of it, measure up to where your "feet " go to work?

Let's be getting into our language the practice of asking each other "how can I pray for you in your mission field", (ie were you work / are occupied)

Are there people who are with you everyday that do not believe in Jesus?

Are you sharing the gospel with them and praying for them, and asking the church to pray for them?
For the LOST:
IS there calling and purpose in the ordinary of your life?

Can there be meaning, purpose,  accountability, and responsibility without a God calling us to these?
Get Praying:
Father let me be the speaker of the gospel to where my feet take me

Father, let my feet be beautiful as I tell people who you are, what you have done for me, what you do in my life and the hope I have in you.

Father, help me to see the connection between my work and your Kingdom.
RESOURCES TO GO FURTHER:
"Motherhood as Vocation"
Motherhood as Vocation | The Washington Institute
"To dwell in a household"
To Dwell in a Household: Menial Work, Meaning, and Motherhood | The Washington Institute
"Callings: Twenty Centuries of Christian Wisdom on Vocation"
http://www.eerdmans.com/Products/2927/callings.aspx
"The Gospel in a Pluralistic Society" Leslie Newbigin
http://www.eerdmans.com/Products/0426/the-gospel-in-a-pluralist-society.aspx
"Christian Mission in the Modern World" John Stott
http://www.ivpress.com/cgi-ivpress/book.pl/code=3411
"Vocation needs no justification" Paper by S Garber
http://qideas.org/articles/vocation-needs-no-justification/
Vocation is integral
https://www.youtube.com/watch?v=Yv6IX9I1SQo
—