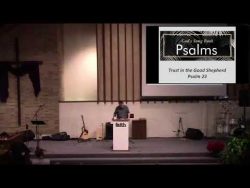 Psalm 23: Trust in the Good Shepherd
December 19, 2021
READ Psalm 23
Get Going: What is your Christian life like today?
Is your week's experience one that believes goodness and mercy follow you?
Recap: As we have opened up the book of Psalms, we have met the power of God's Word to bless us in Psalm 1, The Treasurer we should seek is a close walk with the Lord and a fruitful life.  The power of God's King to destroy His enemies Psalm 2. The only place to find shelter from this terrible judgement is in the judge Himself. The sacrifice of God's Lamb to save us in Psalm 22. And now the goodness of God's Shepherd who leads us through a valley to get home.
This is the low point of the first book of Psalms. It is a valley that they are walking through, struggling to believe this is a God who can bless as He does in the first and last Psalm of book 1.
Context: This psalm is set in direct contrast to the experiences of Psalm 22.  It is to be the melody on the believers heart in order to be able to think clearly when this life feels like anything but God's goodness and mercy, (v.6), are following us.  There are seasons to our walk with the LORD, but the Psalmist, (King David), wants to make clear who it is that is with us through it all.  What He is like, what He has and will do for us, and how in the end we will get to go home.
God has worked through Shepherds in the bible.  Be it Moses as he delivered and led the Israelites like a flock of sheep through the wilderness to water and food. Or David, taking his tool of a sling and using it to defeat the wolf of Goliath.  God works through Shepherds. This psalm points us to the Ultimate Shepherd, Jesus. (John 10:11)
MAIN IDEA: God's goodness will take us home
Transformational Intent: A deepening trust that God is with us
STRUCTURE
The Good Shepherd v.1-4

The Good Host v.5-6
Get Clear:
Is there anything from the passage or the sermon that wasn't clear?

Is there anything from this passage that you didn't understand?
Get Stuck Into Understanding the Bible:
The word "LORD" begins and ends this Psalm, which originally would have been the name or title "Jehova". What tone does that set for this passage?

Use 2 Samuel 7:11b-14a to help you answer that question looking at the promise God made to line of David's kingly descendents.

What does it mean to be a Shepherd v.1?

What did Moses and David do that was Shepherd like?

How Is Jesus a Shepherd John 10:10-18?

What does it mean for someone to be your Shepherd?

What is good about how this Shepherd leads us?

What does God do for His King v.3?

What situation do you think David has in mind v.4?

Why will he fear "No evil"?

How does God lead His flock v.4b?

Even when we face death, what blessing is bigger than that v.5?

What does God do for the King v.5?

What ultimate hope and delight does God give to His King v.6?
Get on:
What does it mean to say that Jesus is your Shepherd?

What is the spirituality of your home?

How are your hearts being drawn closer to God in a relationship with Him?
For the LOST:
Where do you turn to when the shadow of death is cast over you?