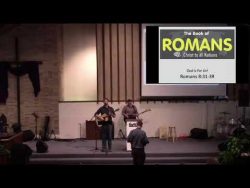 November 28, 2021
READ: Romans 8:31-38
Get Going: If God is for us what excuse do we have?
Recap: From chapter 3 Paul has been describing to us who nothing can save us out side of the grace of God, through the justification of our faith by the death of Jesus.  Nothing else can make us right with God, not law, not morality, not works, not anything of ourselves which is only saturated in our sin.  Only God can save us.  Last time that was magnificently laid out for us by Paul in the chain of salvation:
29 For those whom he foreknew he also predestined to be conformed to the image of his Son, in order that he might be the firstborn among many brothers. 30 And those whom he predestined he also called, and those whom he called he also justified, and those whom he justified he also glorified.
Context:  Paul asks us questions about our salvation in Jesus so that we would not only think clearly whilst going through suffering, but also to raise our game in getting on with the mission of taking Jesus to the world.
From describing God's grace in justification by faith, to worshiping the God of grace in our justification by faith.
We are meant now with the assurance of God's actions described in v.28-30, go on with our lives in worship, fearing no condemnation from any man or devil or inward struggle of the flesh. Fearing no separation from God, despite all of the poison and pollution of sin in the fallen world.  Confident, confident, confident, the Christian is meant to be as He proclaims the brightest name of Jesus in to this dark world in a life of Worship.
MAIN IDEA: To KNOW that by God's justification we are free from condemnation and nothing can separate us from Him
Transformational Intent: To Freely Worship the God of Justification by Faith
"The one true God's one true way for all the world to be right with Him"
Mike Cain
STRUCTURE
Who can condemn us? V31-34

What can separate us? V35-39
Get Clear:
Is there anything from the passage or the sermon that wasn't clear?

Is there anything from this passage that you didn't understand?
Get Stuck Into Understanding the Bible:
What four questions does Paul ask in v.31-34?

Put them in your own words

How would you answer each of these questions?

How are each of these questions anchored in the truths of v.28-30?

What reassurance has God shown us to know He won't fail in His promises for us v.32?

If God is willing to give His one and Only Son to save us, do you think there is anything He would hold back to help us?

What does the end of v.32 tell us?

What is the highest authority in v.33?

Why does the order of Jesus' description reaffirm this idea v.34?

What parallel is there in v.34 of Jesus action and office?

K _ _g &  H _ _ b_ _   S_ _ _ a _t

What final question does Paul ask v.35a?

How is the cost of v.36 compared to the reward of v.30?

How confident would the original hearers of Psalm 44 have been?

Why do we have reason to be more confident?

How do verses 37-39 answer the question of v.35?

How does v.39 emphatically answer the question of v.35?
Get on:
Given these truths, how will you respond in your life of Worship?

What are you afraid of? Given the truth in 31-39 Should you be?

How does this free you to be more faithful in..

Prayer

Hospitality

Evangelism

God's voice has the highest authority, be careful how much weight we give to the voice of others, (including ourselves).

Be confident in the face of those who oppose your Christian faith.
We are never too guilty to be forgiven. Take confidence in v.33-34, (great verses for preparing for the Lord's Supper)
Let nothing condemn you or separate you from the love of God, of remembering what Jesus did for you.
For the LOST:
Aren't you made to know this kind of love?  Secure, certain.
Get Praying:
Holy Spirit, help me to express back to you the truth of these words in worship
Use the songs below to engage your heart and mind into worshiping God.
Get Praising:
Before The Throne of God Above By Charitie Lees Bancroft
Behold Our God By Sovereign Grace