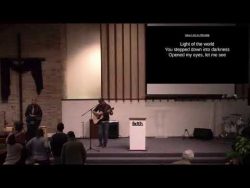 October 17, 2021
READ: Romans 7:11-25
Get Going: Who is the real me?
The person who sins or the person who loves God?
Recap: Paul has been making sure we view the Law in the right way. To see it is Holy, because it comes from a Holy God, therefore it is righteous and good (v.12).  But the law cannot save us. The Law, to the man without the Holy Spirit at work in them, condemns him, by being like a flashlight that highlights his sin. Without the law, we would not know what sin is, (v.7). (Sin being that we don't want God, we rebel against God, and that His law is unpleasant to us because, like a mirror it shows us our ugly desire to do that which is evil and leads to death).
But with the Holy Spirit that same law, now becomes something we delight in (v.22 & Psalm 1)
Context:  Paul is going to explain the experience of every christian walk.  It is an honest confession from Paul of His struggle to live out being united with Christ.  It is one of conflict between who we are withGod's Spirit reigning in our hearts and the law being good, versus our flesh rejecting God and the law showing us what we do wrong. The indwelling sin nature causes us to do the things we hate, (7:15).  It is no wonder this passage comes just before one of the most comforting sections of scripture regarding God's sovereignty and goodness brought to us by the Holy Spirit's counsel.
BIG IDEA: That we never outgrow our need for justification by faith, (our struggles with sin will prove this). Because the Law IS Holy, but it still cannot save us?
How God wants to transform us by His Word: To admit the reality of the constant need to depend on God's justification by faith.
"The one true God's one true way for all the world to be right with Him"
Mike Cain
STRUCTURE
V.12-16 What we want – Why Christians struggle

V.17-23 What we do – Set up for failure if we work in our own strengths

V.24-25 Why we keep on fighting –  Don't dwell in Misery, blessed, in poverty Cf Matt 5:3. Ask who can rescue you?
Get Clear:
Is there anything from the passage or the sermon that wasn't clear?

Is there anything from this passage that you didn't understand?
Get Stuck Into Understanding the Bible:
What tense does Paul now use that's different from v.1-13?

What does this tell us about how to read this section and our expectations for living the christian life?

What brings me to death v.13?

What can our sin do?

So what CAN'T the law do?

What shows me my sin v.13?

How much of my sin does it show me?
Why do you think v.14 has caused so much trouble for Christians over the years?

What diagnosis does v.14 cause?

What aspect of sin are we free from

What aspect of sin are we still wrestling with?

Keeping it simple.  What does Paul want in v.15, but what does he do?

What can't Paul's flesh do v.18?

Keeping it simple again, what does Paul want v.19, but what does he do?

How is Paul like the psalms in psalm 1 v.22?

How would you explain what "inner being" means?

What two forces are at war in Paul as He lives for Christ v.23?

NB the word "law", (principal) in the first part of the verse is slightly different from how the word "law" is used to refer to the Old Testament.

Why is v.24a true of a forgiven child of God?

What does it make Paul long for v.24b?

What is the future hope of V.25?

How is this linked to 5:9-10, 8:23, & 13:11

How does this help Paul and Us to keep pushing on forward in our Christian walk?
Get on:
How long do you think you will keep on having to fight against sin?

How do you keep on fighting, without getting exhausted?

Paul's tactics are who he was, who he is, what he will be, and who God always is. V.24-25.

Do you excuse your sin or acknowledge it as "wretched, as Paul does?

Do you dwell in your sin failings or look again to Jesus' rescue?

Do you delight in God's Word like Psalm 1?

Is there a difference in what your will's want from before to after you became a believer?

Do you ever get tempted to add some rules into your life to help you feel secure in your salvation?

Do you find the thought of  thinking about being sinful too negative to reflect on?

Or does this help you understand the freedom the gospel brings?
For the LOST:
Don't let any Christian lie to you and say that they have got it all together, and life is easy because they are a Christian.

Are you willing to count the cost of how much of a wrestling match being a follower of Christ is?

Are you willing to submit to needing The Holy Spirit's help to walk through this life?
Get Praying:
Help us Father as we walk through the valley of the shadow of death we would fear no evil.  That you would help us to cling to being united with you and not turn aside to our old self.
Deliver me from the person of what I do to being the person I want to be.
Use the songs below to engage your heart and mind into worshiping God.
Get Praising:
Born Again By Josh Garells
Josh Garrels – Born Again – YouTube