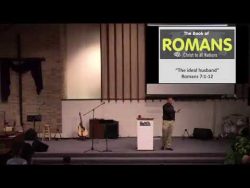 October 10, 2021
READ: Romans 7:1-12
Get Going: What would be the first thing you do if released from a life in prison?
What brings you alive? (Hearing Jackson 5 "I want you back")
Recap: The images of baptism and slavery have been used by Paul to explain the difference between our relationship to sin, (our desire to reject God), and our relationship to righteousness, (our desire to love God). We are to count ourself dead to sin and alive to God, (6:11). SIn is no longer our master, it has been paid off and broken  our chains by the death and resurrection with Christ. When Righteousness masters our life in God, fruit will come, (6:22). Now it's the turn of the image of marriage.
Context:  We are being prepared by Paul to be mature Chrisitan's who don't fight one another, but to fight sin, in order that we might bear fruit and see Jesus be lifted up as King in all four corners of the earth. To do this we need to live realising we are free from the law being viewed as a master holding the rule book in one hand with a rod of punishment in the other, waiting to strike when we fail.  But to see the same law differently through the eyes of being united with Christ, that in the freedom of the forgiveness that comes from Christ we now love to follow the law in the power of the Spirit, because we now see it for what it is Holy.
BIG IDEA: Let us be dead to the law being our master v.1
How God wants to transform us by His Word: Live released in the new way of the Spirit v.5-6
"The one true God's one true way for all the world to be right with Him"
Mike Cain
STRUCTURE
The big idea –  Let us be dead to the law being our master v.1

The illustration – Death of a deadly husband v.2-3

The explanation – Life with An ideal husband v.4

The transformational intent – Live released in the new way of the Spirit v.5-6

The application – Recognise what the law exposes in me v.7-12
Get Clear:
Is there anything from the passage or the sermon that wasn't clear?

Is there anything from this passage that you didn't understand?
Get Stuck Into Understanding the Bible:
What does Paul want us to be conscious of about the power of His law to bind us to guilt v.1?

What stops a marriage from being binding v.2?

How does this illustrate how we have been released from the authority of the law v.3?

Whose death, like the husband, releases us from the power of the law v.2 & v.4?

Who do we belong to v.4?

"Through" what v.4?

So what did He do for us through His body v.4?

How can the law raise in us a want to disobey God v.5?

What does it mean to serve the Spirit, or let the Holy Spirit master over us v.6?

If the law is holy, (5:20, 6:14, 6:22, 7:6)  why does Paul ask yet another question, (6:1,6:15), v.7?

 What trap is Paul wanting us to avoid?

How do v.8-12 describe our relationship between law and sin?

How is the law a flash light or mirror that exposes evil, but not being evil?

Cf James 1:23 (expand to 1:19-25)
Get on:
What version of Chrisatianity do you know?

The one that is fearful of being punished by the law when you fail?

The one that knows you are forgiven and wants to obey because you see it is good?

Same law, to different views.  Tow different ways it applies to our lives.

Does this help you to understand why you keep stumbling in disobeying God?

Does this passage help you to let go of legalism and live by the binding of the Holy Spirit in the gospel instead?

What sin is God exposing in your life that you have to die to and live in forgiveness to Christ?
For the LOST:
Which is good? anarchy or order? Why?

Without Jesus what does the law bring?  With Jesus what does the law bring?

Do you view Christianity as God wanting to hit you for when you get something wrong?  Be good or else?
OR
Do you view Christianity as God wanting to give you freedom to live for Him with His Spirit telling us we are forgiven
Get Praying:
Please let us live a life to the Spirit and not the curse of breaking the law.

Let us know we are forgiven to live a new life.

Heal us from failing either to live to the law or trying to force others to do so too.

Jesus be our ideal husband with your spirit dwelling within us.
Use the songs below to engage your heart and mind into worshiping God.
Get Praising:
Liberty by Shane & Shane