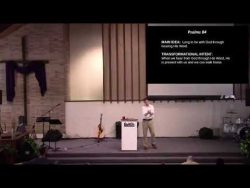 Psalms 84: Long to Be With God
January 23, 2022
Community Group Notes For Psalms
Do you know how to sing through meeting God in His Word?
READ: Psalm 84
Get Going: Who's company makes all the difference to you?
How long can you go without eating?
What makes a sermon different from other forms of bible teaching?
Recap: In the last few studies of the psalms the theme of drawing near to God has come up again, (Psalm 73:28), and again, (Psalm 14:6).  But the question we may have is How?  How do we draw near to God? How do I get to the goodness of being near God? Well, having wrestled with deep questions, and seeing a world that seems to deny God being good, the Psalmist is able to grasp hold of reality and wisdom with some amazing blessing.
Context: We are in book three of the Psalms, where it has felt like in tone, God's people have been in exile, away from God. But here Psalm 84 is a joyful positive song in tone.  And the writer wants us to know how good it is to be in the place and presence of God.  But he also wants us to know that it is a tough road in getting there. V.6. Just like psalm 23 where there is a valley, and just like with the structure of the whole of the psalms that goes down into a valley before it looks up to God, and climbs out of the valley toward our heavenly home.  But the good news in this psalm is that we get told how to do it.  How to draw near to God, how God will protect and provide for us through His chosen King.
MAIN IDEA: God's presence makes the difference
Transformational Intent: When we hear from God through His Word, He is present with us and we can walk home.
"God's King, leading God's people, to sing God's praises."  Tim Satler
STRUCTURE
1-4 Promise of  Place / presence

5-8 Protection/provision for the journey = Shield / strength

9-12 Place, protection, and provision all found in the presence of  being home with God.
Get Clear:
Is there anything from the passage or the sermon that wasn't clear?

Is there anything from this passage that you didn't understand?
Get Stuck Into Understanding the Bible:
What do we learn about God's "dwelling place" in v.1-4?

What part of the "dwelling place" is described in v.3 that as you imagine it being used might not be so lovely?

Why is there beauty here too (Cf Hebrews 9:28)?

It means the Psalmist can say "my King and my God"

What blessings are there in the journey home to God in v.5-7?

Who does the psalmist pray for and what does he ask for in v.8-9?

Who was the anointed one for them then?

Who is the anointed one for us now (Cf Acts 10:38)?

What words are repeated from v.9 in v.11?

Why would the psalmist man rather be the poorest man in God's House, than the richest man in this world v.10?

What description of walking can only Jesus fulfill in v11?

How are we blessed because of Jesus perfectly living out v.12?
Get on:
Mark 4:1-20
Prepare to hear from God

Listen to what God is saying to you from the passage

Praying for the preacher to Philippians 2:12  in his preparation.

Out of the three soils that don't produce a harvest, which one are you susceptible to, (like the worries of this world stealing away from God's Word)?

How can you guard against this?

Walk forward with God's voice guiding you. (John 10:27-30)
Psalm 84
Long to be home with God, this will make you long to hear His voice calling you.

Encourage one another with our singing God's praise as we long to go home.

What difference would it make to our daily walk with the Lord if we set our hearts and minds on the truth "better is one day in your courts than a thousand elsewhere"?

Draw near to God by longing to hear His voice through His Word.
For the LOST:
The joy of this psalm comes when a person can say of Jesus that He is "my King and My God".  Do you want that joy.  Then ask Him to be your King and Your God.
Get Praying:
Give us the longing of this Psalmist, to bless your King to then bless us with your presence.

Let us hear our shepherd's voice so that we follow Him home.
Use the songs below to engage your heart and mind into worshiping God.
Get Praising:
Better is one Day By Matt Redman
Word of God Speak By Mercy Me
Grace will lead me home By David Dunn