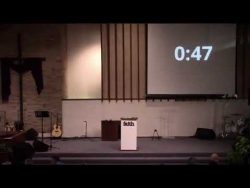 September 26, 2021
READ: Romans 6:1-14
Get Going: What reigns over your life?
What / who really is in charge that makes the difference to your day to day existence?What power does it have to influence your daily life?
Recap: Ch1-5 what God HAS accomplished through the gospel
Context: What God WILL accomplish through the gospel. As Paul unpacks v20 & 21 from Ch5 he picks up on the same language of abounding grace
BIG IDEA: Living out our union with Christ
The power of the grace might abundantly reign because it brings a resurrected life to the believer
How God wants to transform us by His Word:
Live the life of Grace not sin.
That we would live out a new life under the power of Jesus and His grace, not our sin and the law.
"The one true God's one true way for all the world to be right with Him"
Mike Cain
STRUCTURE
1-4 Walk in the newness of life

5-7 No longer be enslaved to sin

8-11 Live with Christ

12-14 Present yourself to God in Christ, (Don't let sin reign)
Get Clear:
Is there anything from the passage or the sermon that wasn't clear?

Is there anything from this passage that you didn't understand?
Get Stuck Into Understanding the Bible:
What two words book end this passage in v.1 & 14?

What is the answer to the rhetorical question of v.1?

Why might this question be getting asked in view of the end of ch5?

What should have happened to sin in the life of a Christian v.2?

What does this look like in a person's life?

How is the word "baptism" being used as a synonym for conversion?

Where does our sin go to die v.3?

What does a baptism testify to an observing church family v.4?

What does the believer have when they die to their old life in sin v.4b?

How long does it last for v.4c?

What in v.1-4 has been done in the past for us?

What in v.4c are we to do in the present?

Where does the power for this new life come from v.5?

What future promise is contained in v.5b?

What can we no longer be charged with by God?

How does this help us to be motivated to die to sin?

If our old self is "crucified with Him", what does that mean we have to avoid doing v.6?

Why, what does this do to our old life of sin v.6b?

What are we "set free" from in v.7?

NB it is not the temptation of sin.

If we are dead to sin, who will we live with v.8?

In v8-11 there is a parallel between what Jesus went through and what should be the true experience of a Christian's walk with God.  What is that parallel?

How would you put v.11 in your own words?

How did Jesus live to God v.10?

Rather than sin being the King that "reigns", what / who should be? v.12

How is v.13 like the language of temple worship?

What is the glorious promise of v.14?

What do v.12 & 13 say we must be doing for this to be the case?
Get on:
As we walk with Jesus, what do we have to be intentionally doing to sin in our lives?

As we walk with Jesus, what do we have to be intentionally doing with our life in Christ in our daily lives?

How is the fact that we can live to the power of God's grace and not our own sin, both an encouragement as well as challenging.

Do you consider yourself dead to sin, and alive to God in Christ? (v.11)
Cultivate the pattern of thought, word, deed.