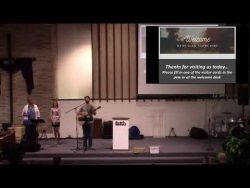 August 29, 2021
Community Group Notes
READ: Romans 5:1-11
Get Going: When have you been locked out in the cold?
What's the greatest example you can remember of reconciliation?
Recap: Paul has been telling us what God has done for us.This means that there is nothing we can do to be saved. Being a Jew won't save us, being religious won't save us, being moral won't save us, trying to obey won't save us.  Nothing we do will save us.  We need God to act. Paul shows us this through Abraham. God brought life from death. The Father of the Jews was saved by grace, which means He is the Father of "us all" 4:16. Paul has been calling us to see our impossible situation on our own and come under grace.
Context:  Now Paul wants us to understand what God has done for us means for us both now and in the future. The more certain we are of what God has done will lead to being more assured of what God will do for us, changing the way we live in the present.
Paul began to ask how is your life being shaped by the promises of God, because of the God of the promises.  He now takes that same question a stage further showing us what difference the gospel should make to our lives today. Living under grace. It's beautiful how from the end of Chapter 4 and into chapter 5 he now speaks in the plural of us and we.  In other words this is what brings "us" together.
BIG IDEA: God calls us to come into where He is! (Luke 15:25)The joy of having been justified produces hope of eternity and peace in the present reality. v.2
How God wants to transform us by His Word: Placing our confidence in Christ! That we would see the gospel making a difference in our lives today. v.11
"The one true God's one true way for all the world to be right with Him"
Mike Cain
STRUCTURE
What God HAS done

What God IS doing

What God WILL do
Get Clear:-
Is there anything from the passage or the sermon that wasn't clear?

Is there anything from this passage that you didn't understand?
Get Stuck Into Understanding the Bible:
Cf Matthew 27:46 How was rejoicing expressed here by Jesus?

Hebrews 12:1-2 might be helpful.

What is the "therefore" there for in v.1?

What's the difference between having "peace with God" and having the peace of God? V.1

How is who Jesus is,  the reason for this?  (So first what does v.1b say Jesus is?)

Who do we have to go through to get into the house of grace? V.2

Where do we have to stand once we come though Jesus into the house of grace v.2b?

What do we have to do once we come through Jesus into the house of grace, standing on His goodness v.2c?

NB the word rejoice is better translated as the word "boast"

What's the difference between this right boasting and 2:17's wrong boasting?

In order to understand v.3 we might want to stop and think about the story of Joseph. Genesis 37.  How might Joseph have understood this verse?

How might the prodigal son have understood this verse Luke 15:24?

Notice it is not the sufferings themselves, but what it produces.

Why is "hope" in our heart?  How did it get there? Who from? V.5

What were we when Christ died for us v.6 v.8?

How does v.7 show us how much stronger Christ's love is than any human love?

Was God's love there before the cross happened? V.8

In what tense is the word "justified" being used v.9?

In what tense is the word "saved" being used? V.10

In what tense is the word "reconciled" being used? V.11
Get on:
What difference does knowing the gospel make to your life today?

Another way of asking is what are the fruits we should see in a "justified" believer?  Is there fthis fruit in your life? Why?

How do we know God loves us?

How does this change how we go through suffering and our future?

What will us bragging/boasting/rejoicing in God together as church look like?
For the LOST:
Don't stand out in the cold, is it really better out there?

Do you recognize that you are a sinner whom Christ died for?

Come as you are!  Because the gospel is not performance based.

Come on in and be with God.  It's good in here with Him.
Get Praying:
That we would be deeply satisfied that we are saved by faith in God justifying us

That when we sin or see sin in us we would not doubt God's love, instead rest more on God's grace, that He would become more precious to us.

That when we sin we don't make excuses, or try and make up for it in performance, knowing our best is not good enough for God, but instead rest more on the grace of God, which means I am not in jeopardy.

That even though my body may fail, I would face death and sickness with peace because of going to Jesus.
Use the songs below to engage your heart and mind into worshiping God.
Ladies take a look at this testimony:
Get Praising:
Blessings through raindrops by Laura Story
Though you sleigh me by Shane and Shane
—