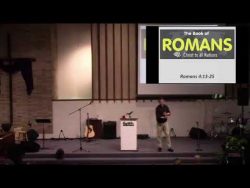 August 22, 2021
Community Group Notes
READ: Romans 4:13-25
Get Going: What is guaranteed? Do you have the patience to wait for it?
Recap: We all have a problem in our relationship with God there is nothing we can do about it.  There is nothing we can boast in,3:27. Only if God credits our bankruptcy with His righteousness can we live by faith, (4:9&10, 1:17).
Context:  This faith that we live out is only their because of God laying the foundation of Grace which God's righteousness rests, (4:16) upon. I firm foundation that He put in place which is His only Son Jesus the cornerstone of our salvation.  That by His perfect life, that fulfills the law, by His perfect death, that takes the punishment for breaking God's law, we are given what we don't deserve which is God's unconditional forgiveness and redemption.
BIG IDEA: To be "fully convinced that God was able to do what he had promised." v.21
How God wants to transform us by His Word:   Grow strong in our faith as we give glory to God v.20b
Get Clear:
Is there anything from the passage or the sermon that wasn't clear?

Is there anything from this passage that you didn't understand?
Get Stuck Into Understanding the Bible:
Read Genesis 17:1-8 then Galatians 3:16-17

What is the promise that God gave to Abraham? Romans 4 v.13

How will we inherit from God v.13

Who will not inherit from God v.14

Why will the promise of God not be fulfilled by the law v.14-15?

How can we be confident that even though we don't obey the jewish law of the Old Testament that we will inherit along with Abrham the promises of God? V.16

What can God do? V.17

When has God brought something into existence that didn't already exist?

Genesis 1:1

Ephesians 1:4

What did Abraham do v.18?

Why was trusting in God's word "against all hope", (v.18), according to v.19?

How is faith not based on feelings or appearances?

How is faith not trusting in yourself?

What did Abrham do to counteract putting his assurance in the wrong place?

What facts do we have to focus on trust in God? v.21

What goodness of God do we believe in, because God credited us with righteousness v.24b-25?

How does Jesus and His resurrection give us more assurance that God keeps His promises? v.23-25
Get on:
Do you believe God?

How are you defined today by God has done for you in Jesus?

Are you growing stronger in faith and giving more glory to God, because of what He has done for you?

Are you fully convinced that was/is able to do what He promised?

Is your faith strong because of the strength of you or the one you put your faith in?

How can we "grow strong in our faith" to remind one another to give "glory to God" in our daily lives, that God has given us His righteousness?

What difference does the assurance that God will always keep His promises make to our daily lives?

To our attitudes to having a job?

To our attitude of what we do in being part of a church?

What difference does "being  fully convinced that God was able to do what He had promised,"  make to how we pray as individuals and as a church?
For the LOST:
Is there anything in this life that offers you the same level of guarantees as God does?

What do trust more the promises of God or of this world?

Which do you think is more reliable?
Get Praying:
Thank God that He can do what we can not do, bring life from death?

That He brought us from death to life

That He brought sara's womb from death to life

That He brought Jesus from death to life

Give glory to God for always keeping His promises.

Please God let this define our reality.
Use the songs below to engage your heart and mind into worshiping God.
Get Praising: Graves into Gardens
Graves Into Gardens (Lyrics) – Elevation Worship ft. Brandon Lake – YouTube
—