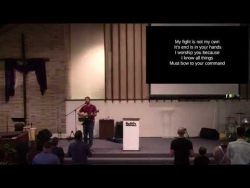 August 15, 2021
Community Group Notes
READ: Romans 3:27-4:12
Get Going:
Recap: Paul has set5 up the book of Romans with this huge desire to see the whole world come to faith and obedience in Jesus being their King. That's how he opens and closes this book.  But there's a problem. Sin.  There is also an answer.  The Gospel. So from Chapter 1:16-17 Paul has promised us that the righteousness of Gdd has been revealed through the gospel, and that righteousness will be lived out by true believers by faith. He spent from Ch1:18 explaining the bad news of our condition in sin, a poison and pollution that affects us all and all of creation ever since the fall. Not the law, not being Jewish, not being a moral gentile, can save us.  All those ways are blocked. But then last time, we saw there is a righteousness in Jesus Christ, that gets delivered to us by faith. We have been bought by the blood of Jesus and are forgiven.  The gospel is glorious when God shows us how He has justified us in Jesus.
Context:  Following on Paul is answering two questions very simple, but profound questions;
1. What is faith?
2. Who has that faith?
BIG IDEA: To have confidence in Christ alone to save you.
How God wants to transform us by His Word:  To replace self confidence with confidence in Christ
STRUCTURE
Nobody who boasts in themselves has true faith V27-28

Why, because One God justifies all people by faith V29-31

Because Abraham was justified by faith 4:1-5

Because every true believe in the Old
Testament was justified by faith V6-8
Because justification by faith came before the law. V9-12
Get Clear:
Is there anything from the passage or the sermon that wasn't clear?

Is there anything from this passage that you didn't understand?
Get Stuck Into Understanding the Bible:
Why would being saved by "observing the law" enable someone to boast v.27a?

But God makes us right by giving us "faith", why does this mean we can not boast v.27b?

Why might someone think Paul's saying faith means we don't need the law anymore? V.31

How does faith in Jesus "uphold" the law?

Because the law tells us we must obey it perfectly and only Jesus can do that?

Because the law tells us there  must be punishment for lawbreaking, on Jesus there was.

Because the law now tells us how beautifully God good is. We no longer obey it to be saved, (either trying to find the loophole to get round it or crushed by standards we can't meet)  because in our faith in Jesus we are both forgiven for when we have broken it, loving God's justice in not punishing us for it, and seeing how good it is for us to follow it.

How are Abraham and David two witnesses to show that we are saved through faith?

When was Abraham considered righteous? Before or after he obeyed the law?

Because Jesus fulfilled the law for him?

Was David punished for breaking the law?

Because Jesus was punished for him?
Get on:
What do you boast about / in?

What you rely on to get you through

Where you find your value or self worth

Could these areas let you down?

Are we willing to give up our confidence in….

Our identity? (i.e.  being a religious Jew, Or Pagan Gentile)

Our achievements?

How will you boast in Jesus?

Is He your source of confidence?

Cf Galatians 6:14 might be a helpful way to think about this.

If we boast only in Jesus, is there room to feel superior pride over others?

Is there anyone too sinful that God cannot forgive?
For the LOST:
Could what you find your confidence in let you down?

If what you know about God is true, would He let you down?
—