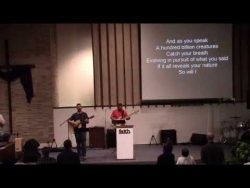 July 11, 2021
Community Group Notes For Romans
READ: Romans 3:1-8
Get Going:
Is it ok to sin, because God's promise says He'll forgive us?

What advantage is there in being identified as a Christian and being baptized?

Will it save someone?
Recap: For the gentile Paul wants to smash the prison cell their minds where in of knowing they should be following the Law of God's Word, but without the gospel they are trapped in the conflicting thoughts of either "I am guilty of breaking God's law" Or "the Law that it does not matter that I have broken God's law", (2:15).  Both of which steals away from us any sense of peace.  We can not rest in either of these places.  For the Jew, Paul is blocking off any thought that the way to God is by what we do with either the outward circumcision or the inner knowledge of the law that does not impact the heart.
Context:  As Paul continues with unpacking how God shows no partiality to either those who face God's wrath, Jew or Gentile, neither does He show any partiality to those who can be saved by the power of the gospel, either Jew or gentile. It's a matter of the heart, not a matter of the extrnals or the internals of knowledge alone. He is putting the last road block in place to convince the unrepentant Jew there is no other way to God outside of a repentant faith in Jesus Christ.
BIG IDEA: God is true to His Word, Everyone is guilty! "He can save the world without me"
How God wants to transform us by His Word: God can condemn us if we are only a Christian outwardly. That God's truth would abound to His glory, through our confession of sin and trust in His Word.
STRUCTURE
The advantage of Knowing God's Word v.1-2

The warning of unfaithfulness leaving me out v.3-8

Get Clear:
Is there anything from the passage or the sermon that wasn't clear?

Is there anything from this passage that you didn't understand?
Get Stuck Into Understanding the Bible:
What objection is Paul anticipating in v.1?

What is good about being a Jew v.2?

What is Paul taking the time to do in v.3-8?

What perspective is he considering?

What does the Jew wrongly think God will do even if they are unfaithful to God's promises?

Why would God be just in condemning the unfaithful Jew of v.3-8?

Does this contradict God's Promises to the Jews? Why?

Why is this important in view of Paul's overall aim in Romans, (C.f Ch1:5-6)

How does the quote  in v.4 from David in Psalm 51:4 take away any false assurance that knowing God's promises is enough to save us?

What does Paul want to make as clear as possible to the person who has grown up in a Jewish context by v.8?
Get on:
Is it ok to sin, because God's promise says He'll forgive us?

What have I done to grace then?

Is God fair?

Humbly remember, God doesn't need you or me.

Celebrate knowing God's promises for the world found in the word in Jesus.

Don't stop at just knowing the promises of God, live them out humbly to the glory of God's fame.

How do we go from knowing God's promises to humbly living them out?
For the LOST:
Is God fair?

Do you want justice?  On whose terms?

Is there something outside of Jesus that you think will be good enough for you not to be judged by God? (your family, cultural background, own moral standards)
Get Praying:
God, thank you that you are just as faithful to your judgement as you are to your salvation.

Father, help me to trust in nothing but Christ alone.  Teach me to repent all my days and love the power of your salvation.
Use the songs below to engage your heart and mind into worshiping God.
Get Praising:
Yet not I, but Christ in me By City Alight
 My Defense By Vertical Worship
—