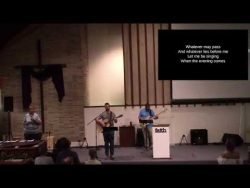 July 18, 2021
Community Group Notes
READ: Romans 3:9-20
Get Going: Why are churches that try to be seeker sensitive a contradiction to scripture?
What fruit does man produce w/ out God?
Recap: Jesus is King of all, with the power to save the world
Context:  Without Jesus we are all under God's wrath with no way out.
BIG IDEA: Everyone's in trouble.
How God wants to transform us by His Word:
This is how we need to see the world.  To let the law bring the knowledge of our sin so that we may look for the righteousness of God revealed in the power of the gospel, so that we will live by faith.
STRUCTURE
Everyone is trapped in their sin V9

No one seeks God V10-12

Tongues prove our rebellion V13-14

Without God we kill each other V15-18

Just Knowing the bible won't save us. V19-20
Get Clear:
Is there anything from the passage or the sermon that wasn't clear?

Is there anything from this passage that you didn't understand?
Get Stuck Into Understanding the Bible:
How is v.9 a summary of everything Paul has been saying sonc Ch1:18-3:8?

What is true of everyone, Jew or Gentile, religious or rebel?

How does the quote from Psalm 14 back this up in v.10-12

How do the quotes from Psalm 5, 140, & 10 build on this in v.13-14

The final two quotes from Isaiah 59 and Psalm 36 v.15-18?

How does sin affect our…

Minds?

Motives?

Will?

Tongues relationships?

Attitude to God?

Why do we have no room to protest innocence or injustice in light of v.19?

What does the law achieve for us v.20?
Get on:
Are you numb in sin or alive in Spirit?

Holiness gives us feeling, sin makes us numb.

Will anyone be declared righteous by God by what they do or who they are?

What are you trusting in to get to God?

Is your heart empty v.10-12?

Is your tongue bitter v. 13-14?

Is your life building or destroying the Kingdom v.15-18?

Where will you let the law take you v.19-20?
For the LOST:
Without God coming to you, you are lost.

Do you want to do life without Him?
Get Praying:
Deep Conviction of sin and a stronger understanding that we cannot save ourselves.
—
Pastor John Geaney