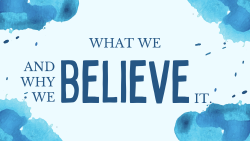 What We Believe: Family Relationships p.3 1 Timothy 2:8-3:7
July 23, 2023
8 I desire then that in every place the men should pray, lifting holy hands without anger or quarreling; 9 likewise also that women should adorn themselves in respectable apparel, with modesty and self-control, not with braided hair and gold or pearls or costly attire, 10 but with what is proper for women who profess godliness—with good works. 11 Let a woman learn quietly with all submissiveness. 12 I do not permit a woman to teach or to exercise authority over a man; rather, she is to remain quiet. 13 For Adam was formed first, then Eve; 14 and Adam was not deceived, but the woman was deceived and became a transgressor. 15 Yet she will be saved through childbearing—if they continue in faith and love and holiness, with self-control.
Qualifications for Overseers
3 The saying is trustworthy: If anyone aspires to the office of overseer, he desires a noble task. 2 Therefore an overseer[a] must be above reproach, the husband of one wife,[b] sober-minded, self-controlled, respectable, hospitable, able to teach, 3 not a drunkard, not violent but gentle, not quarrelsome, not a lover of money. 4 He must manage his own household well, with all dignity keeping his children submissive, 5 for if someone does not know how to manage his own household, how will he care for God's church? 6 He must not be a recent convert, or he may become puffed up with conceit and fall into the condemnation of the devil. 7 Moreover, he must be well thought of by outsiders, so that he may not fall into disgrace, into a snare of the devil.