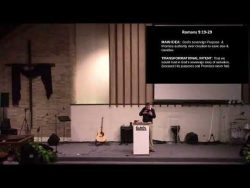 March 27, 2022
Community Group Notes For Romans
READ: Romans 9:19-29
Get Going: Is God in charge?
Why does our culture struggle with the concept of authority?
Why is it so hard not to be in charge or in control of everything?
What does it mean we have to do, instead?
Recap: Paul wants to stop his relatives from Israel in assuming they are a child of God, because of the culture they grew up in, how they tried to follow the law apart from faith, the people they are related to, the character they have, or the mercy of God outside of trusting in Jesus.  In short, if you are not believing by faith in Jesus alone to become a child of God you are trusting in the wrong places and this breaks Paul's heart.  It answers the questions why, given all the history and interaction with God, does Israel not believe in their Messiah, Christ Jesus.  For us today it answers the question, why with such a rich Christian heritage in our culture do so many people who go to church have non personal relationship with God.  It is not the culture or people we surround ourselves with, it is not the one or two commandments we keep, it is not our own character or who we are related to that saves us.  It is only by having faith in Christ alone.
Context:  Paul is wanting to explain how the gospel is going from the Jews to the gentiles. That everyone is being saved through faith trusting in the righteousness of Jesus, (3:21),  which is fair. God is not either failing His Word, (9:6), His Justice (9:14),  or His Will (9:18). Because every person is fallen and from Adam, (5:12), without God acting we are all from the clay of being a fallen sinner. So God chooses who He will use to accomplish His Purposes of fulfilling His promises. And so now the question comes up, if God is in charge of doing all this how can He find fault in anyone.  It is because we are guilty to begin with.  We do not need God to be just, because that would mean punishment.  We need God to be merciful through His purposes and promises. Just as He was with Moses and Israel in v.15.
MAIN IDEA:  God's sovereign Purpose  & Promise authority over creation to save Jew & Gentiles
Transformational Intent: That we would trust in God's sovereign story of salvation, because His purposes and Promises never fail.
To Trust in God's sovereign choice to transform all who receive Christ's righteousness from vessels of wrath to vessels of mercy
"The one true God's one true way for all the world to be right with Him"
Mike Cain
STRUCTURE
God's Sovereign Purpose v.19-24

God's Sovereign Promise v.25–29
Get Clear:
Is there anything from the passage or the sermon that wasn't clear?

Is there anything from this passage that you didn't understand?
Get Stuck Into Understanding the Bible:
To help guide your way through these verse we need a simple principle of understanding the idea of clay:
Who are the vessels of wrath? Both Jew and Gentile, All men, (Ch 5:12)

Who are the vessels of mercy? Those who receive Christ's Righteousness through faith. (Ch3:21ff) First Jews then Gentiles. (Ch1:16-17)
Why does the question of v. 19 come up?

Do you struggle with this question too?

What is the "fault" of v.19?

Who is being accused of being at fault?

What does the person asking the question find unfair?

What right perspective does Paul want to give us in v.20?

Cf Job 38:4-5 & 42:1-6 How is there a similar discussion of control here?

What certain facts does Paul lay out for us in v.21?

What does God desire to do in v.22a?

But what does He do v.22 b?

Why does He do this v.23a?

Who is the beneficiary in God enduring with much patience v.23b?

What will that result in v.23 c

Who will glorify God v.24?

How do the quotes from Hosea & Isaiah confirm God's sovereign purpose v.25-29?

What does it say God will do?

What does Hosea say about the gentiles v.25-26?

What does Isaiah say about the Israelites v.27-29?

Do these two quotes explain what Paul is seeing happening around him at the time of writing the letter?
Get on:
Who are we in relation to God the creator?

How should this shape how we relate to HIm?

What do we need to remember when someone says God is unfair?

Who is to get all the praise for our salvation?

What does this do for us when we remember this?

Who can be saved?

How should reading quotes from the Old Testament explain what was happening in Paul's day to give us assurance about the sovereignty of God?
For the LOST:
Nobody is beyond God's reach to save.  Including you.

See that there is a God in charge of human history.  That He is real and in control.
Get Praying:
That we would trust in God's sovereign story of salvation.
Use the songs below to engage your heart and mind into worshiping God.
Get Praising:
2 Sins By Sam Chaplin
Behold Our God By Sovereign Grace