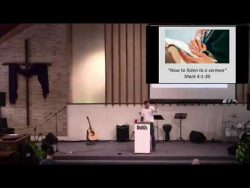 Mark 4:1-20: How to Listen to a Sermon
February 6, 2022
COMMUNITY GROUP NOTES FOR How to Listen to a Sermon:
READ: Mark 4:1-20
INTRO:  What makes a sermon different from other forms of bible teaching?
Recap: Mark has been quick in his introducing Jesus. Who He is, what He has come to do, and what that means for you and me. He has shown us Jesus' authority to teach, heal, and call men to follow Him. The religious people of the day have rejected Jesus, as much as He has rejected their religious works.  There is to be a New Time and a New people of God, now not just from the Jews, but every tribe tongue and nation. Jesus is King of His Kingdom, which is to cover the whole world and everyone who follows Him is part of the family, (as well as part of His Kingdom), their distinguishing mark is not being biologically related, but those who do "the will of God ", (3:35).
Context: : In Mark 4:1-20 Jesus shows us what it looks like to do the will of God (cf. 3:35). He explains to his disciples why  there is a mixed and often hostile reception to
His ministry. He assures them that the kingdom will grow. This chapter is one of two large blocks of teaching in Mark's gospel.  The two big ideas in this passage are "the Kingdom of God" ,(4:11),  and "hear the word" ,(4:9,12,15,16, 18, 20). Jesus continues to teach about who is in the Kingdom and how it will grow.  The first thing that Jesus says helps us understand what response he is looking for: 'Listen!' Those who are part of His family and recognise Jesus as King hear the words of the Kingdom, His words, the Bible, accept it, and bear fruit from it (4:20).
THEME: How do we know we have "heard" God's Word?. v.9
AIM: To Hear AND accept God's word in order that we might bear fruit. v.20
Structure:
Parable v.1-9
Listen v.3 (God's will, 3:34-35, Jesus is being fair.  To those who want to obey rather than be in charge.  Ie listen to the Spirit Cf 3:28-29)
4 soils:
Surface v.4

Shallow but no root v.5-6

Root but no fruit v.7

Root and fruit v.8
Hear v.9
Parable Explained v.10-20
Protect from Satan. v.14-15

This is Spiritually Proactive

Prepare the Soil v.16-17

This is Preparing for the storms that will try to up root you

Practice clearing the ground v.18

This is selecting what is influencing you

Proclaim the gospel v.20

This is proactively speaking the gospel to deepen your root and desire fruit.
Get Stuck In:
Who is Jesus speaking to in v1?

Where is Jesus speaking to the people from v1?

What sort of teaching does Jesus use? V2

What command does Jesus give before and after this parable V3 & 9?

What two groups does Jesus talk about in v11?

What differences does Jesus describe between the two groups? CF Ch:3:35 for those on the "outside", and those on the "inside"

Why do some people never accept Jesus' Word V15?

Why do some people stop hearing Jesus' Word in bad times? V16-17

Why do some people stop hearing Jesus' Word in good times? V18-19
Get Rich:
Mark 4:1-20
Prepare to hear from God

Listen to what God is saying to you from the passage

Praying for the preacher to Philippians 2:12  in his preparation.

Out of the three soils that don't produce a harvest, which one are you susceptible to, (like the worries of this world stealing away from God's Word)?

How can you guard against this?

Walk forward with God's voice guiding you. (John 10:27-30)