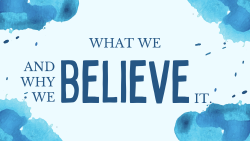 What We Believe: The Sanctity of Life Psalm 139 13-16 & Genesis 1:26-28
January 22, 2023
13 For you formed my inward parts;
you knitted me together in my mother's womb.
14 I praise you, for I am fearfully and wonderfully made.[a]
Wonderful are your works;
my soul knows it very well.
15 My frame was not hidden from you,
when I was being made in secret,
intricately woven in the depths of the earth.
16 Your eyes saw my unformed substance;
in your book were written, every one of them,
the days that were formed for me,
when as yet there was none of them.
26 Then God said, "Let us make man[a] in our image, after our likeness. And let them have dominion over the fish of the sea and over the birds of the heavens and over the livestock and over all the earth and over every creeping thing that creeps on the earth."
27 So God created man in his own image,
    in the image of God he created him;
    male and female he created them.
28 And God blessed them. And God said to them, "Be fruitful and multiply and fill the earth and subdue it, and have dominion over the fish of the sea and over the birds of the heavens and over every living thing that moves on the earth."
Footnotes
Genesis 1:26 The Hebrew word for man (adam) is the generic term for mankind and becomes the proper name Adam